Martial Arts Kickboxing in North Vancouver and Vancouver area
CALL TODAY 604.983.3799
"Originally founded by Master Farid Dordar (World Champion) and Sensei Ingrid Katzberg (North American Champion), Champions Martial Arts Academy has been serving Vancouver since 1992.

Champions' success has been based on service to students with complete dedication to their achievement. Starting as a stand alone location in North Vancouver, B.C., teaching Kickboxing, Karate, Brazilian Jiu Jitu, MMA, and cardio kickboxing, Champions has grown to be a multinational martial arts system and brand.

Champions Kickboxing & Martial Arts Academy has won numerous awards throughout the years; Best Schools in Canada, Numerous Reader's Choice Awards, and have appeared in numerous television programs including Philadelphia 76s Half Time Show, Children's Hospital Telethon, BCTV sports, Variety Telethon of Hearts and BCTV Breakfast Show.CLICK HERE TO REGISTER
Still not convinced? Find out 10 Reasons why you should join today
Champions Birthday Parties are the best in town. Please CLICK HERE and we will contact you to book your Child's Birthday Party.
Parties Packages start at $349, birthday cake, refreshments, snacks!
Follow Us
Testimonials
Beginner Schedule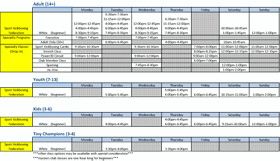 School Schedule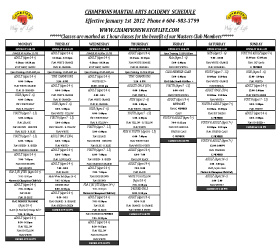 Community
Champions Kickboxing in North Vancouver is more than a martial arts school, it's a place where students can feel at home. Many of our students refer to champions as family because of the support each student gets from their school. We pride ourselves on our customer service, and our people are simply extraordinary. You can guarantee that every time you walk into a Champions school you will be greeted with a smile and immediately feel refreshed with the positive atmosphere.

Champions Kickboxing North Vancouver is a friendly place where you will be called by name and be appreciated for who you are. In addition to receiving a black belt, students are guaranteed on building lifelong relationships as well. Whether you want to enroll your child, become a world champion or simply feel better about yourself, everyone can find a home at Champions Martial Arts and Fitness.